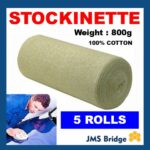 Stockinette Roll 800g
( 5 Stockinette Rolls )
Pack Quantity : 5 Stockinette Rolls

Approx Weight of Each Roll : 800 grams

Cut to length as required.

Stockinette rolls are highly absorbent

Knitted cotton for numerous cleaning and polishing applications, standard/medium weave, and 100% cotton.
Description
Our Stockinette Rolls are certified to OEKO-TEX Confidence in Textiles standards. This means that the raw materials used for manufacturing our Stockinette has been tested for harmful substances. Therefore you can be confident that our Stockinette has not been treated with substances that may be harmful to yours or your family's health.