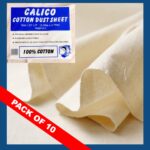 Calico Dust sheets
Size: 12ft x 9ft ( 10 pcs )
£72.99
Pack Quantity : 10 Sheets

Calico Fine Weave 100% Cotton Dust Sheet

Size : 12ft x 9ft Approx.

Ideal for protecting furniture and floors when decorating.

Also used for covering items in storage

Oeko-tex tested for harmful substances

Ideal for Painters and Decorators

Highly absorbent

Washable and reusable
Description
Calico Dust sheets, Professional quality dust sheets that are tougher but finer weaved compared to cotton twill, resulting in a flatter, more shear, and dust sheet with excellent absorption.
Widely used by builders, painters, decorators and also suitable for home based or industrial applications. Please note that these sheets are not 100% waterproof or dustproof. Absorbs 'paint scatter'. Please double them up for better protection.
Calico is a finer, softer cotton than that of our standard twill range. With a tighter weave, this sheet is less likely to allow dust to penetrate.
Our cotton dust sheets are certified to OEKO-TEX Confidence in Textiles standards. This means that the raw materials used for manufacturing our Dust Sheets has been tested for harmful substances. Therefore you can be confident that our dust sheets has not been treated with substances that may be harmful to yours or your family's health.